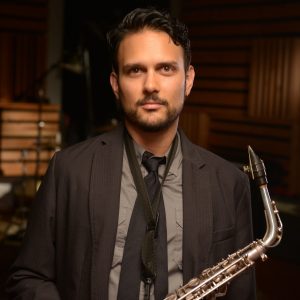 Hailed as "A fiery alto saxophonist and prolific composer" by the Star Tribune (Minneapolis), Aakash Mittal is sculpting a dynamic voice that mines the intersection of improvisation, composition, sonified movement, and noise. The colorful dissonances, meditative silences, and angular rhythms that emerge invite the listener to enter a sonic landscape. Mittal's work explores universal designs while being rooted in both South Asian and American musical traditions. His latest project is a series of nocturnes written for his Awaz Trio that abstract and deconstruct five Hindustani evening and night ragas. 
As a composer Aakash Mittal has written extensively for a variety of ensembles and mediums composing over one hundred new works. His recent commissions include, Samay Raga for Wind Ensemble for Lawrence University and a consortium of eleven international wind symphonies, the found-sound piece Ghosts (2017) for BOMB Magazine, a work for solo percussion titled Meditation, Motion, and Melody for Indian-American percussionist David Abraham (2017). The Playground ensemble has commissioned a number of works including Urban Raga (2011), Transitions (2011), and Questions of Identity (2012). In 2009 Mittal wrote Octet on Raga Yaman for the Ethos West Chamber Orchestra. In 2012 Mittal wrote Meditation for Pictures on Silence saxophone and harp duo. American University Creative Ensemble commissioned the work Pooja, in 2013. As a leader, Mittal has self-released four recordings, Possible Beginnings, Videsh, Thumbs Up EP, and Ocean to rave reviews. 
Aakash Mittal has performed with such notable ensembles as the Milford Graves Trio, Du Yun's Ok Miss, Amir Elsaffar's Rivers of Sound, and the Brooklyn Raga Massive. As a leader Mittal has performed nationally at such venues as Lincoln Center (New York City), The Dakota (Minneapolis), The Cultural Center of Chicago, The American Jazz Museum (Kansas City) and Dazzle Jazz Club (Denver). Internationally, Aakash Mittal led a quartet at the Congo Square Jazz Festival in Kolkata, India.
Music education is a core element of Mittal's creative activities. He has maintained a private studio since 2002. After moving to New York City Mittal taught music classes at the Salvation Army in Harlem. Aakash Mittal is currently on the music faculty for Special Music High School, The Lucy Moses School, and The Brooklyn Waldorf School. As a conductor Mittal leads three ensembles for Face the Music. Face the music is a NYC youth organization where students play the music of living composers.
Aakash Mittal's awards and honors include the Chamber Music America/ASCAP Award for Adventurous Programming of Contemporary Music (2012), the Herb Albert/ASCAP Young Jazz Composers Award (2013) and the American Institute of Indian Studies Creative and Performing Arts Fellowship (2013).
Part 1:
Introduction

Where Aakash grew up and family history

Early instrumental experience

Identity as a composer
Part 2:
Black and Improvised music

Thoughts on notation vs. improvisation

Identity and acceptance
Part 3:
Early composition experience

Approach to composition

Support/inspiration to compose

Study of Indian music and performance-practices
Part 4:
Three Song of Bengal

Notation as a vehicle

Studying and incorporating Indian music.

Focus on the similarities among music styles
Part 5:
Listener question: chamber music

Wrap up
Part 6:
Wrap up

Where to find Aakash's music
Aakash's Recommended Works
Aakash's Thoughts & Writings
Idea that genre doesn't exist
music on Spotify under Aakash Mittal Quartet
I truly enjoyed chatting with Aakash. Hearing the stories of studying and embracing a part of his background is at the core of what music does for us–it is a connection to our past and among each other. His piece, Three Songs of Bengal, is such a refreshing take on what is traditionally known here as "world music." Knowing that Aakash has a deep understanding of the music he studied gives more credence to the idea of authenticity. He also challenges how we incorporate, simplify, and/or lump together music of different cultures.
He left me with a thought about folk and traditional music. Aakash, rightfully, rattles my perception about those terms by challenging me to consider the richness and evolution of the music.  Having terms "folk" or "traditional" in the section where the composer is credited can be reductive or lull us into the idea that it never will be known. He got me thinking about our mode of inquiry and how it often falls short. Seeing those words is a starting point into a research of the regions and the people from which it evolved. Perhaps there is no one person who "owns" the music but it has a lineage that most likely can be traced to a group or event.
I will certainly be challenging myself to dig deeper into these styles of music and learn more about the people and culture from which they emerge. The music is as interesting and diverse as the students who sit in front of us and, just like the kids, deserves to be known as fully as possible.
~OKW