Symposium 2019 Clinicians and Ensembles
---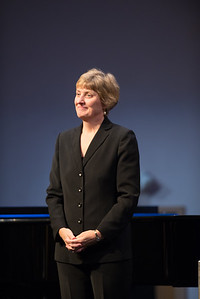 Dr. Karen Lavoie

Karen LaVoie is Professor of Music and Director of the Wind Symphony at Westfield State University in Westfield, Massachusetts.  Dr. LaVoie teaches studio trumpet, conducting, ear-training, and has taught courses in music education, music history, and music appreciation.  She has also served as Chair of the Music Department at Westfield.  Dr. LaVoie taught public school band, chorus, and classroom music in Falmouth, Maine, and all aspects of instrumental music and music history at Olivet College in Olivet, Michigan.  As a trumpet player, Dr. LaVoie has performed with numerous orchestras, musicals, and wind ensembles, including the Brass Band of Battle Creek, MI, the Massachusetts Wind Orchestra, and the Berkshire Lyric Chorus at Ozawa Hall at Tanglewood.
Dr. LaVoie has been a guest conductor and adjudicator for district and All-State festivals and clinics in Maine, Massachusetts, Connecticut, Rhode Island, Minnesota, and Iowa.  She served three times as the wind ensemble conductor for the United States Youth Ensembles 19-day European Tour, performing in Germany, Austria, Switzerland, France, and the Netherlands.  Dr. LaVoie holds degrees in music education and band conducting from the University of Southern Maine, Western Michigan University, and was the first woman to receive the Doctor of Musical Arts Degree in Band Conducting from the University of Iowa.  She is an active member of numerous professional organizations, including the College Band Directors National Association, the International Trumpet Guild, the College Music Society, NAFME, Massachusetts Music Educators Association, Pi Kappa Lambda, a national Music Honor Society, and is a life-long honorary member of the Michigan State Band and Orchestra Association.
---
Pete Malinverni 

Pete Malinverni has been a fixture on the New York City Jazz scene since moving there in the early 1980's from his hometown of Niagara Falls, NY.  He has recorded fourteen times as a leader, including solo piano, trio, quartet, quintet, big band and choral contexts.  Throughout his time in NYC, Pete has established performing, recording and inspirational contact with a host of masters on the scene there, including Joe Lovano, Vernel Fournier, Charles Davis, Mel Lewis, Dennis Irwin, Jon Faddis, Karrin Allyson, Steve Wilson and many others.  Pete is proud of his work in education, too. After tenures at William Paterson University and New York University, he now serves as Head of Jazz Studies at the Conservatory of Music at Purchase College, State University of New York, just a few miles north of the City.  Pete Malinverni is a Steinway Artist.  For more information on him, check out https://www.petemalinverni.com and https://www.purchase.edu/live/profiles/228-pete-malinverni
---
Dr. Michael Votta 

MICHAEL VOTTA, JR. has been hailed by critics as "a conductor with the drive and ability to fully relay artistic thoughts" and praised for his "interpretations of definition, precision and most importantly, unmitigated joy." Ensembles under his direction have received critical acclaim in the United States, Europe and Asia for their "exceptional spirit, verve and precision," their "sterling examples of innovative programming" and "the kind of artistry that is often thought to be the exclusive purview of top symphonic ensembles."
He currently serves as Director of Bands at the University of Maryland where he holds the rank of Professor. Under his leadership, the UM Wind Orchestra has been invited to perform at the international conference of the World Association of Symphonic Bands and Ensembles as well as national and regional conferences of the College Band Directors National Association. UMWO has also performed with major artists such as the Baltimore Symphony Orchestra, the Orpheus
Chamber Orchestra, Eighth Blackbird, and the Imani Winds. UMWO has commissioned and premiered numerous works by composers such as Daniel Bernard Roumain, Andre Previn, Baljinder Sekhon, Robert Gibson, Alvin Singleton and James Syler.
Votta has taught conducting seminars in the US and Israel, and has guest conducted and lectured throughout the world with organizations including the Beijing Wind Orchestra, the Prague Conservatory, the Eastman School of Music, the Cincinnati College-Conservatory of Music, the National Arts Camp at Interlochen, the Midwest Clinic and the Conductors Guild.
His performances have been heard in broadcasts throughout the US, on Austrian National Radio (ÖRF), and Southwest German Television, and have been released internationally on the Primavera label. Numerous major composers including George Crumb, Christopher Rouse, Louis Andriessen, Karel Husa, Olly Wilson, Barbara Kolb, and Warren Benson have praised his performances of their works.
He is the author of numerous articles on wind literature and conducting. His arrangements and editions for winds have been performed and recorded by university and professional wind ensembles in the US, Europe and Japan. He is currently the President-Elect of the Eastern Division of the College Band Directors National Association, and has served as Editor of the CBDNA Journal, as a member of the Executive Board of the International Society for the Investigation of Wind Music (IGEB), and on the board of the Conductors Guild.
Before his appointment at Maryland, Votta held conducting positions at the University of North Carolina-Chapel Hill, Duke University, Ithaca College, the University of South Florida, Miami University (Ohio) and Hope College.
Votta holds a Doctor of Musical Arts in Conducting degree from the Eastman School of Music where he served as Assistant Conductor of the Eastman Wind Ensemble and studied with Donald Hunsberger. A native of Michigan, Votta received his undergraduate training and Master of Music degrees from the University of Michigan, where he studied with H. Robert Reynolds. As a clarinetist, Votta has performed as a soloist throughout the US and Europe
---
Micro Big Band