NYSSMC/NYSBDA Clinicians and Abstracts 2019
Monday, August 12th, 2:30-3:45pm -

Robert Ambrose "Developing Rhythmic Accuracy and Awareness in Your Ensemble: Techniques and Strategies"
This clinic will provide techniques and strategies for band and orchestra directors to assist in developing their students' rhythmic sensitivity within the large instrumental ensemble. Also addressed will be techniques to aid the conductor in his/her own rhythmic accuracy. Strategies for identifying and fixing the most common rhythmic errors will be discussed and modeled. To conclude, recommended literature that assists in teaching rhythmic sensitivity will be discussed.
Dr. Robert J. Ambrose
currently serves as Director of Bands at Georgia State University located in Atlanta. He has conducted across the United States as well as in Australia, Canada, Finland, Germany, Greece, Hong Kong, Singapore, and Taiwan. Ambrose has strong professional ties to the Finnish music community. He is frequently engaged in that country as a guest conductor, teacher, master clinician, and lecturer. Dr. Ambrose is the Founder and Music Director of the National Chamber Winds in Washington D.C. and the Atlanta Chamber Winds. In 2016, Dr. Ambrose was invited to spend ten days on tour as a guest conductor with the United States Army Field Band. Ambrose is the only civilian in history to be invited to guest conduct a premiere American military band on tour. Ambrose's wind band arrangements are published by C. Alan Publications, Sannabelle Publications, and Fennica Gehrman (Finland). His transcriptions appear on several state music lists. As a guitarist, Ambrose has performed in dozens of jazz ensembles, combos, rock bands, and pit orchestras. He studied formally at Boston College, Boston University, and Northwestern University, where he received the Doctor of Music degree in conducting.
Sunday, August 11th, 1:00-2:15pm - Ambassador Trio "A Unified Sound"
Improving individual and ensemble performance with
auxiliary clarinets.
The Ambassador Trio


is a professional clarinet trio with members Dr. Patrick Englert, Dr. Jack Liang, and Dr. Jeremy Ruth. The trio formed in 2013 while all members were graduate students at Arizona State University, and since then have performed internationally throughout North America and Europe, including conference performances at the International Clarinet Association's ClarinetFest and the College Music Society National Conference. As part of their mission to expand the repertoire for clarinet trio through commissions, the trio has studied auxiliary clarinets extensively, resulting in several new works that utilize the auxiliary voices in a unique and effective manner.
Tuesday, August 13th, 9:00-10:15am -
Holly McCoy "ABCs of Instrumental Music"

Simple, basic tips and shares from both the Band and Orchestra room. From A to Z, you will receive 26+ ideas, activities and/or words of advice
Holly McCoy
the Instrumental Music Teacher at Meachem Elementary and Clary Middle School in the Syracuse City School District. She plays French horn in a professional music educator's ensemble out of Syracuse called Central Winds. She also performs with the Syracuse University Brass Ensemble, New Hartford Citizen's Band, and she loves to play for local High School musical productions on both the French horn and trumpet.
Sunday, August 11th, 2:30-3:45pm -
Brett Richardson "Make Your Mark: Steps Towards Better Score Study"

As conductors, time spent on score study dwindles among the myriad responsibilities we face day-to-day as administrators and teachers. And unfortunately, music teaching (and class preparation) makes up a very small percentage of a typical school day. In this clinic, Richardson will present a systematic approach to highly efficient score study that will make your rehearsals more efficient, positive, and ultimately, more focused on the music!
Dr. Brett A. Richardson
serves as the Coordinator of Music Education/Director of Bands, Instrumental Area Coordinator, and an Assistant Professor of Music at the University of the Incarnate Word (UIW) where he teaches courses within the music education curriculum, conducts the Wind Ensemble and Concert Band, directs the Marching Cardinals, and administers all facets of the UIW Band program. Richardson holds the Doctor of Music degree in Wind Conducting from the world-renowned Indiana University Jacobs School of Music where he was a student of Prof. Stephen W. Pratt. He also holds a Master of Music with emphasis in Wind Conducting from Texas A&M University-Commerce under Dr. Brad Kent and a Bachelor of Music Education from Stephen F. Austin State University under Prof. Fred J. Allen. Other professional mentors include Jeff Gershman, David W. Campo, Christopher Anderson, Brian Britt, Steve Smith, Julie Jezek, Jimmy Clark, and Deb Scott. Prior to his appointment at UIW, Dr. Richardson proudly served as an Associate Instructor with the Indiana University Jacobs School of Music Department of Bands/Wind Conducting and as the Resident Conductor for the Southern Indiana Wind Ensemble, a community wind band based in Bloomington, Indiana. Previously, he served as the Assistant Director of Bands and Instructor of Music at his alma mater, Stephen F. Austin State University in Nacogdoches, Texas. A product of the music education tradition in Texas public schools, Dr. Richardson began his career as a music educator as part of the Clear Creek and Lewisville Independent School Districts.
Tuesday, August 13th, 10:30-11:45am -
Shane Helfner "Demystifying the Oboe"

This clinic will help answer many of the questions that band directors have regarding oboists and their sound production. We will discuss strategies to help oboists play more in tune, how to blend more in their section, go over warm ups that teachers can use with their students, and more. We will also discuss how to adjust reeds so students are able to get a more responsive sound and play at appropriate dynamics. The goal is to help directors feel more comfortable and have more strategies they can use in the classroom.
Shane Helfner
is the high school band director at Schreiber High School, Port Washington Schools. He is a graduate of the Eastman School of Music where he received a BM with Distinction in Oboe Performance, and Hofstra University where he received a MS with Distinction in Music Education. He has performed as the principal oboe of the Eastman Philharmonic and Wind Ensemble, the National Wind Ensemble, the All-Eastern Symphonic Orchestra, the All-State Band and Orchestra, the Rochester Opera Factory, the Carl Olsen's Singers Institute, and of the Flower City Society Orchestra where he recorded a soundtrack for the film "Captain Salvation." Mr. Helfner has studied at the Pre-College Division of the Juilliard School of Music, the Boston University Tanglewood Institute, the Banff Center Summer Arts Festival, the LIU Post Chamber Music Festival, and the Hidden Valley Institute of the Arts in California.
Monday, August 12th, 9:00-10:15am -
William Tonissen & Brian Doyle "Reading Band Session"

William Tonissen and Brian Doyle will be exploring the music of under-represented composers (bring your instrument!) This reading session will focus on the music of women and minority composers. The goal of this session is to expose participants to repertoire that directors can use to diversify their programming to better represent the students they teach.
Dr. William J. Tonissen Jr.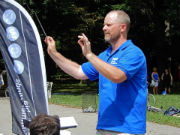 is currently the Concert Band Director at White Plains High School. Under his direction, the Concert Band has received Gold Ratings in the New York State School Music Association (NYSSMA) Majors Festival. He is also the Music Director of the Columbia Summer Winds, and has worked as the Assistant Music Director of the Columbia University Wind Ensemble. Dr. Tonissen has also served as a guest conductor both the United States and Europe (Prague, Check Republic, and Budapest, Hungry) and was recently invited to conduct the Pacific Symphony Orchestra Youth Wind Ensemble. He has taught at the elementary and middle school levels in the State of Michigan and has served as a Band Teaching Artist with Project Music, an El Sistema program based in Stamford, Connecticut. Dr. Tonissen holds bachelor's and master's degrees in Music Education from the University of Michigan and Teachers College, Columbia University and a doctorate in music education from Teachers College, Columbia University. His research interests include student motivation in band ensembles, band methodologies, and pedagogical practices. He has presented his research at the New York State School Music Association (NYSSMA) Conference, the Michigan Music Conference, and the NAfME Eastern Division Conference. He has also published articles in the NYSSMA School Music News.
Dr. Brian Doyle
joined the Crane faculty in 2006. He conducts the Crane Wind Ensemble and Symphonic Band, and also teaches courses in conducting. A Michigan native, he received all of his degrees in his home state. At Michigan State University, he received a BME and two MM (saxophone and wind conducting) degrees. His principal teachers included John Whitwell, Joseph Lulloff and James Forger. At the University of Michigan, he received the AMusD in Wind Conducting under the mentorship of Michael Haithcock. Dr. Doyle's former teaching posts include faculty positions at Indiana University, The University of North Carolina - Chapel Hill, Duke University, and as a public school music educator in Imlay City, MI. While in North Carolina, Dr. Doyle served as the resident conductor of the Triangle British Brass Band from 1999 until 2002. Dr. Doyle has also served on the summer conducting faculty of the renowned Interlochen Arts Camp, as well as the New England Music Camp. Dr. Doyle now spends his summer as the conductor of the Crane Youth Music Wind Ensemble.
Monday, August 12t, 10:30-11:45am -
Jonathan Sweet "The Daily Playing Warmup: Structuring Fundamental Training to Maximize Rehearsal Potential"

The goal of this presentation is to present real-world warmup exercises to enhance what is happening in the pieces of music the ensemble is developing. Too many times, we as directors go through the motions of fundamental training because we feel that we must spend the time in the pieces. The opposite is true: you must spend time with fundamental training, the results will be astronomical! Through this clinic, easy methods of training will be introduced including: tonegenerator and metronome use, effective long tone strategies, lip-slurs and technique, articulation, and chorale use. These examples can be used for indoor or outdoor rehearsals. With the proper structure, you can do all of this in less than 15 minutes per day
Jonathan Sweet
joined the Purdue Bands & Orchestras faculty as Assistant Professor of Bands in the fall of 2017. Sweet received his Bachelor of Music Education from Abilene Christian University in 2004, and earned a Masters of Music degree in Wind Band Conducting from Stephen F. Austin State University in 2013. Prior to his appointment to Purdue's faculty, Sweet served as a Graduate Teaching Assistant at the University of Kentucky. He taught undergraduate conducting students, marching band techniques, and private lessons in the Euphonium studio. He also conducted the Concert Band, guest conducted the Wind Symphony and Symphony Bands, assisted with the Wildcat Marching Band, and directed the Wildcat Pep Band for Women's Volleyball, Women's Gymnastics, and Men's Basketball. Prior to arriving at the University of Kentucky, Sweet spent 11 years as a public school band director in Texas, where his groups frequently achieved superior ratings, best in class awards, best in festival awards, outstanding visual awards, and outstanding general effect awards. In addition to his teaching experience, Jon has operated a marching band design and consultation business, Sweet Marching, where he has designed over 150 shows since 2004. These designs have included performances at Bands of America Grand Nationals, Bands of America Regionals, and Super Regionals, Texas State, Area and Regional Marching Band Championships, and the University of Kentucky.